Cel-Fi GO G41-JE-DL-1SO Stationary - Telstra | Optus | Vodafone - 11dBi LPDA7040-11 | 6dBi DAS 6938-SOC150 Omni Ceiling Mount Antenna Bundle
G41-JE-DL-1SO
RFI - TELSTRA | OPTUS | VODAFONE
Regular price $2,460.00 Sale
Cel-Fi GO G41-JE-DL-1SO Stationary - Telstra | Optus | Vodafone - 11dBi LPDA7040-11 | 6dBi DAS 6938-SOC150 Omni Ceiling Mount Antenna Bundle
Each Cel-Fi GO - G41 Stationary Telstra | Optus |Vodafone bundle consists of... 
G41-JE-003 Telstra | Optus | Vodafone Cel-Fi GO Stationary Unit. Includes 240VAC Power Pack 
1x LPDA7040-11-0.3NF - 11dBi Log Periodic Antenna GSM 698-4000Mhz.
1x DAS6938-SOC150-N DAS LTE Omni Directional Ceiling Antenna 698-3800MHz, N type connector
2x 9207N-10 Cables 10.0M SMA-M to N-Male  
Features of the latest Smart Signal Repeater from Nextivity...
Switch between operators via the Wave app 
5G ready. (G41 has 5G capabilities, but currently not enabled or approved by Networks)
Supports all frequency bands for Telstra, Optus and Vodafone-TPG with exception of B28u(700MHz) for Vodafone-TPG   
Up to 3,000 m2 coverage area
Support for Dynamic Spectrum Sharing (DSS)  
Also available with 2x Internal Ceiling Antenna bundle - click here
This product can work on any of the Australian networks (Telstra, Optus, Vodafone/TPG) but like all other Cel-Fi products it will only amplify one operator's service at a time. You have the option to switch it between the operators via the Wave app if you wish to change from one network to the other.
Designed to solve indoor mobile voice and data coverage issues, the Cel-Fi GO G41 is the latest and most powerful Smart Signal Repeater to the Nextivity range. Now approved by Telstra.  
Note: This device is only for fixed installation in a building and is not suitable for vehicle installation/useage.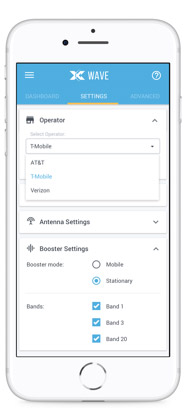 INDUSTRY LEADING SIGNAL GAIN
Boasting up to 100dB gain, the GO G41 features a higher output power than the G31 and G32 at +20dBm per channel.
3G/4G WITH CARRIER SWITCHING
 Now operating across all Australian 3G/4G frequency bands, the GO G41 is 5G ready, carrier safe and can be deployed anywhere within the network to amplify service.

Like the all other Cel-Fi Go products, the Cel-Fi GO G41 amplifies the service of one operator at time. To quickly change or switch between operators, simply download the Cel-Fi WAVE app.
FLEXIBLE SYSTEM DESIGN
The Cel-Fi GO G41 features a flexible system design, making it suitable for a deployment in a wide variety of applications including:
Government buildings
Agricultural settings
Parking garages
IoT and M2M (machine to machine) 
Small manufacturing operations
Business in single / multi-level commercial properties
Remote or rural locations
Large homes 

CEL-FI INSTALLATION EXAMPLE
COVERAGE UP TO 3,000 M2
When paired with either RFI Omni Dome Antenna(s) for ceiling mounting or RFI Wideband Panel Antenna(s) for wall mounting, the Cel-Fi GO G41 is the perfect in-building, remote, and IoT solution covering up to 3,000 square meters.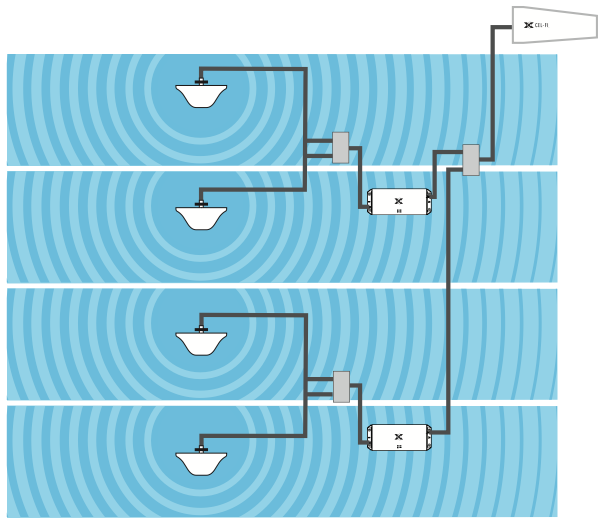 Warranty: 2 Years   
Documentation 
Cel-Fi Go - G41 Carrier Switching Instructions
Wave App
Nextivity Wave App - iPhone, Android and PC 
What's in the Box
G41-JE-DL-1SO
1x CEL-FI-GO G41-JE-003 Telstra/Optus/Vodafone Stationary unit only
1x 240VDC Power Pack
1x LPDA7040-11-0.3NF - 11dBi Log Periodic Antenna GSM 698-4000Mhz.
1x DAS6938-SOC150-N DAS LTE Omni Directional Ceiling Antenna 698-3800MHz, N type connector
2x Pulse 9207N-10 Cables 10.0M SMA-M to N-Male 
   



Related Products
Also available as a Dual(2) internal antennas bundle - click here
Availability